Top 8 Etiquette Tips For Bridal Gown Shopping
The question has been popped, the bride's tribe notified, and a date tentatively set.
The next step?
Yes, the thing most brides dream of...
The Dress.
It must highlight the bride's personality and style, without completely overpowering her or being horribly uncomfortable.
So, she has the vision and we have the dresses.
In order for this process to be as stress-free as possible, here are some etiquette tips for the bride-to-be and her crew to follow whilst searching for the perfect dress!
1. To Make Or Not Make An Appointment
This one is pretty straight-forward.
If the store requires appointments to shop for wedding gowns, make one!
Luckily, The Bridal Event does not take appointments and works on a walk-in basis for shopping.*
Most stores will say whether or not they take appointments on their websites, so be sure to check there and save yourself a call!
*Please note that though The Bridal Event does not take appointments, Saturdays do tend to be the busiest days and depending on when you arrive there may be a bit of a wait.
2. Be Mindful Of Your Entourage
We love that the bride wants to share this moment with her friends and family, but most bridal floors will not have the room to accommodate every bridesmaid, both sets of grandmothers, two cousins and one great-aunt Helen.
If possible, keep the group small.
Bring the people whose opinions you value the most, because opinions will be voiced; and they can either make or break your shopping experience.
In addition to this tip, it is encouraged to leave small children at home.
While children are wonderful and are a special part in every bride's day, the shopping day's focus should be on the bride and her search for her dream gown.
Shopping can be a full day excursion, especially if the bride and her group go to more than one store, and this can tire those kiddos out pretty fast.
So save yourself some tears and hungry tummies, and give your favorite babysitter a call.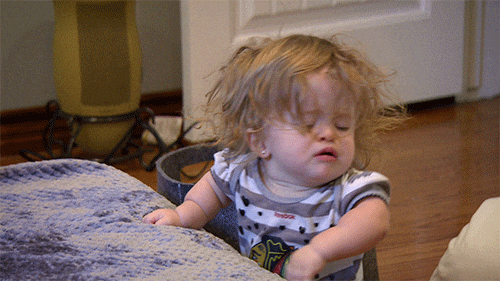 3. Be Open About Your Specific Budget
If there is a budget you would like to stay within, please let us know before we jump right into the shopping process!
Every wedding is unique, and your budget shouldn't restrict you from finding that perfect dress.
Letting the consultant know what you're looking for in terms of style and budget will help them to find gowns that match your vision and financial needs.
Trust us to help you navigate our inventory!
4. It's Never Too Early To Order
A year is probably the average amount of time brides give themselves in terms of ordering a dress- which is great!
The recommended time for ordering a gown is 8-9 months before your wedding.
This can feel like forever, but we promise, there's a method to the madness.
It takes about 6 months for the dress to be made and shipped to the store; thus, allowing for the two remaining months to be used for alterations.
Consultants will almost always say that you can never order a dress too early, but you can always order a dress too late.
Another thing to keep in mind are discontinuations.
Styles get discontinued all the time, and that dress that you fell in love with but wanted to wait to order could become unavailable overnight.
Discontinuations aren't something we are given a heads-up on. We get the notice and that's it.
We don't want to scare you- we just want you to be informed on everything that comes with ordering your bridal gown!
Additionally, if your wedding is in three months, don't expect to be able to order a brand new dress in that amount of time.
Quality work takes time- and you don't want to have to rush your bridal gown.
The Bridal Event does allow off-the-rack purchases, and our excellent alterations staff can help fit the dress to your one of a kind shape.
We will work to ensure you can acquire the gown perfect for you. The Bridal Event hasn't missed a wedding in the 30+ years we've been open.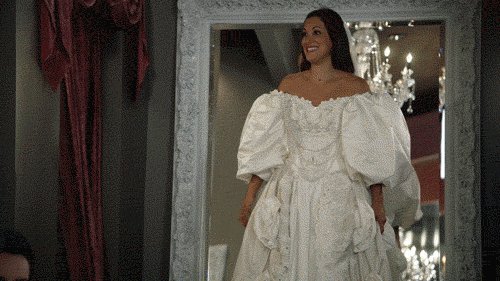 5. Remember... Your Consultant Is Human
Your consultant wants to help you the best they can, but if they aren't given the chance they won't be able to help you find your dream dress!
Let them do their jobs- they are specifically trained to help you through this big, once-in-a-lifetime decision.
At The Bridal Event, we help with every step of the process; from selecting gowns to sample, helping you try them on, and assisting in choosing the best accessories at your request.
We definitely understand that this is an exciting time in a bride's life, and that every member of her crew is there to help.
In order for us to make this experience the best one possible, we encourage the bride's posse to sit back and relax.
There will be plenty of opportunities for the wedding party to take part in dress shopping- let us do the heavy lifting!
6. No Food Or Drink Please!
We allow capped water, of course, but please don't expect to bring your Starbucks up to the bridal floor (coffee and white gowns don't exactly mix).
That being said, food is also not allowed on the bridal floor for similar reasons.
Even dry food can leave crumbs that can ruin the bottoms of the gowns.
On the subject of alcohol:
Champagne is an excellent way to celebrate that "yes to the dress" moment, but many bridal stores will not allow alcohol on the premises.
The Bridal Event does not hold a liquor license, and the consumption of alcohol onsite is considered illegal.
If you do choose to bring alcohol into our building, we will kindly ask for it to be removed. If it persists, you will be asked to leave.
Like every business, there are rules and expectations that need to be followed.
If we both do our part, we're sure to have an amazing time together!
7. Come Prepared
Sometimes shopping for bridal gowns is a completely spontaneous decision, and the bride is wearing her bright blue underwear and a hot pink bra.
This is absolutely fine, and many stores will have some type of strapless bra to wear in case the bride finds her current bra distracting.
If this is a planned visit, wearing a strapless bra and neutral underwear might help the bride visualize what the gown will look like on the wedding day. (And all of the attention will be on the bride and her gown- and not the hot pink bra!)
On a side-note: please wear undergarments.
Not only are the gowns samples that have been tried on by more than one person, it saves the embarrassment of having to try on gowns with your consultant in the nude.
It also doesn't hurt to take a look around at some styles online before shopping. (Uhm, hello, Pinterest!)
If you have an idea of what you're looking for in a bridal gown, that's great! It helps move the process of elimination along until we narrow it down to the one that's perfect for you.
But if you feel you need a little more guidance, and you have no idea where to start- just stop in.
Our consultants are here to help you find a style unique to you!
8. Keep In Mind... It's All About The Bride
This final and incredibly important point goes out to not only the bride, but the bride's crew as well.
The whole point of a wedding is to celebrate the bride and her partner's love and union. She will be the one in the dress!
So a good idea would be to keep your opinion in check with how it may come across to the bride.
If you don't like the dress, but you can see that she is absolutely in love with it...
Step back and let her love the dress.
The same applies for the opposite scenario; if you love the dress, but the bride seems uncomfortable or upset, don't pressure her to love it. It's not your day!
And to the bride: Be excited and keep a clear head.
There will be plenty of thoughts thrown your way (especially if your group is an opinionated one), but the one opinion that truly matters is yours.
It may be difficult to please everyone, but don't forget you have a voice.
Remember- your consultant is always in your corner. We want this to be the best possible experience for you!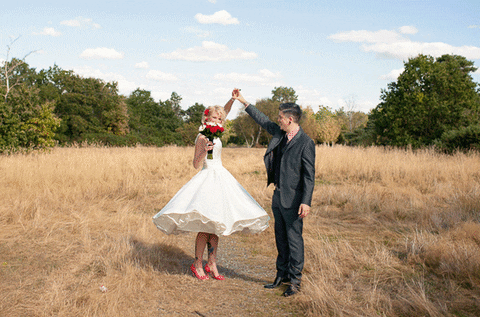 Let us know your thoughts on our Top 8 Etiquette Tips! What are some tips you would add to our list?
As always, The Bridal Event is ready to help you find the gown of your dreams, and that's why you never need an appointment to shop.
Stop in today, and let us make your experience a magical one!
#bridalstore #shopping #noappointments #bridalconsultants #wisconsinwedding #wedding #thebridalevent #bridal #walkinsonly